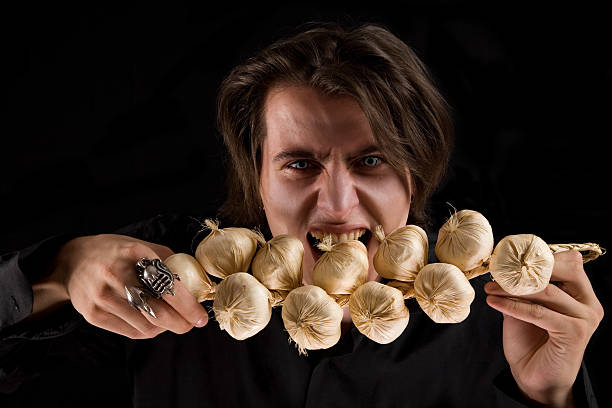 Garlic: Friend or Foe?
Many of us find garlic hard to tolerate, but did you know it contains many healthy chemicals such as the antimicrobial, allicin? After all, once you're dead, you could use the extra help! Garlic may reduce blood pressure, too, which might be something of a relief after a heavy night. If you really can't stomach the smell and taste, why not try odourless garlic capsules?
One Small Step
Crossing thresholds is hard, isn't it? We get it. But sometimes you have to make that leap, invitation or not – it's literally the only way to move forward. Try it!
Cutting Back on Blood
We all love blood of course, who doesn't? But moderation is key to everything. Have you considered the Eat-Stop-Eat diet, which involves fasting for one or two days a week? Many that try this find it's challenging at first, but once they get used to the routine they have more energy than ever before. Why not give it a go? It might be easier than you think.
Getting Across Crosses
Do we really need to live in fear of religious symbols? Could you overcome your iconophobia? After all, how rational is it, really? When you think about it, there are crosses everywhere. Why not start by looking for these sorts of shapes in furniture – window frames don't burn, do they? Type some † symbols into your word processor, or get a piece of paper and doodle them. Lay one pen across another pen. Start slowly, and you'll be handling crucifixes in no time.
It's All Sun and Games!
We're traditionally told to stay out of the sun, but is old advice truly good advice? Some have suggested that vampires need vitamin D, too – strong teeth and bones are important for everyone! But if you do decide you'd like to try a smidge of sun exposure, build up slowly. Glass filters a lot of ultraviolet light, so you can begin safely by standing near a window in daylight hours. Once you're okay with that, you can try a few seconds outside, but make sure you stay close to home and in the shade – at least at first. Experiment with sunblock (remember, even the highest factor formulations don't block everything). Once you're used to daylight you can venture further, but do be sure to take a dark-coloured umbrella, just in case. Give it a go – a little sun might just do you the world of good!
---
Author's notes
A lot of similar advice for humans is nonsense, too. Biscuit?